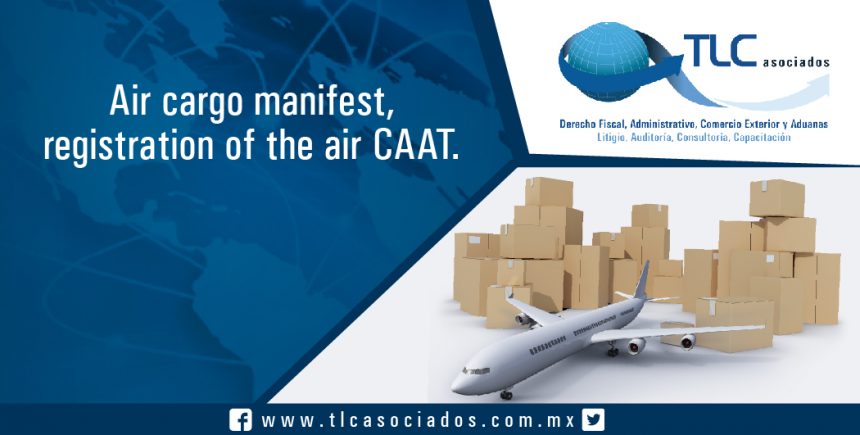 040 – Air cargo manifest, registration of the air CAAT
March 1st, 2017 in Mexico City.
The informative sheet No. 03 published in the Mexican Foreign Trade One-Stop System´s Portal (VUCEM) in regards to the AIR CARGO MANIFEST, REGISTRATION OF THE AIR ALPHANUMERIC CODE is made of your knowledge where it is specified that it is extremely important for those companies that provide freight services of air cargo, national or foreign, either cargo agents, air freight companies, courier companies, and/or any other modality as the charter flights, to review in detail this information.
It was published in the downloading section of the One-Stop System´s Portal an update to the "Manual for the air CAAT registration", being as "Guide for the registration of the air CAAT" which will be used to comply with the obligation of the air CAAT with the Tax Administration Service by the mentioned freight companies.
It is very important that all the mentioned companies have their air CAAT registration in accordance with rule 2.4.4 of the Foreign Trade General Rules (RGCE) 2017, as well as to promptly fulfill the obligation indicated in the rule 1.9.10 and 1.9.17 of the RGCE in regards to the data electronic transmission of the VUCEM concerning the information relative to the goods that are being transported to avoid observations by the fiscal authority when in movement.
This publication can be read at the following link:
www.ventanillaunica.gob.mx/vucem/SobreVU/Descargas/.
Without anything else at this moment, do not hesitate to contact us.
Sincerely,
Foreign Trade and Customs Consultancy Division of
TLC Asociados, S.C.
Partial or total reproduction is prohibited. All rights reserved to TLC Asociados, S.C. The content of this article is not a private consultation, therefore TLC Asociados, S.C., its team and author, are not responsible for any interpretation or use that the reader or recipient could give to it.