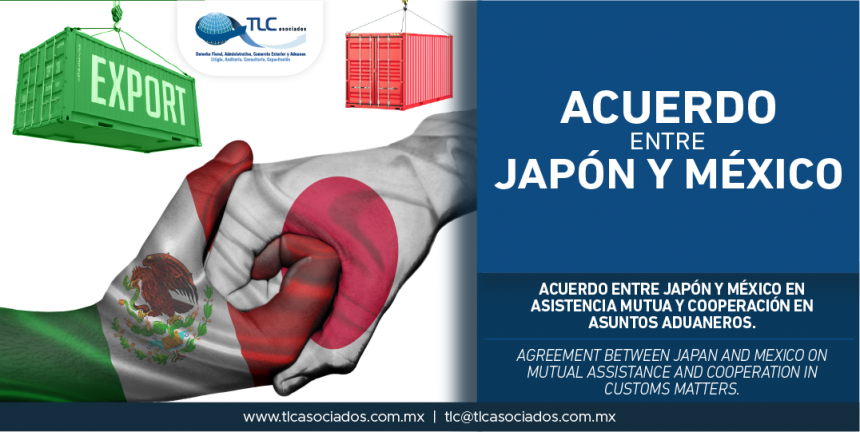 280 – Acuerdo entre Japón y México en asistencia mutua y cooperación en asuntos aduaneros / Agreement between Japan and Mexico on mutual assistance and cooperation in customs matters
Last Updated on December 27, 2018 by TLC ASOCIADOS
Estimado Usuario.-
Por medio del presente se hace de su conocimiento la siguiente información: 
El día 27 de JULIO de 2018 se dio a conocer en el Diario Oficial de la Federación por parte de la SECRETARÍA DE RELACIONES EXTERIORES lo siguiente:
DECRETO PROMULGATORIO DEL ACUERDO ENTRE EL GOBIERNO DE LOS ESTADOS UNIDOS MEXICANOS Y EL GOBIERNO DEL JAPÓN SOBRE ASISTENCIA MUTUA Y COOPERACIÓN EN ASUNTOS ADUANEROS, HECHO EN LA CIUDAD DE MÉXICO, EL DIEZ DE AGOSTO DE DOS MIL DIECISIETE.
TRANSITORIO
ÚNICO.- El presente Decreto entrará en vigor el veintinueve de julio de dos mil dieciocho.
Sin otro asunto en particular quedamos a sus órdenes para cualquier duda o aclaración respecto de la presente información.
Atentamente
División de Consultoría en Comercio Internacional y Aduanas
TLC Asociados, S.C.
 Prohibida la reproducción parcial o total. Todos los derechos reservados de TLC Asociados, S.C. El contenido del presente artículo no constituye una consulta particular y por lo tanto TLC Asociados, S.C., su equipo y su autor, no asumen responsabilidad alguna de la interpretación o aplicación que el lector o destinatario le pueda dar.
Esteemed User.-
By means of the present the following information is made known:
On July 27, 2018, the following was announced in the Official Federal Gazette by the SECRETARIAT OF FOREIGN AFFAIRS:
PROMULGATORY DECREE OF THE AGREEMENT BETWEEN THE GOVERNMENT OF THE MEXICAN UNITED STATES AND THE GOVERNMENT OF JAPAN ON MUTUAL ASSISTANCE AND COOPERATION IN CUSTOMS MATTERS, DONE IN THE CITY OF MEXICO, ON AUGUST TEN OF TWO THOUSAND AND SEVENTEEN.
TRANSITORY
SINGLE.- This Decree will come into force on July twenty-ninth, two thousand and eighteen.
Without anything else at this moment, do not hesitate to contact us.
Sincerely,
Foreign Trade and Customs Consultancy Division of
TLC Asociados, S.C.
Partial or total reproduction is prohibited. All rights reserved to TLC Asociados, S.C. The content of this article is not a private consultation, therefore, TLC Asociados, S.C., and its team and author, are not responsible for any interpretation or use that the reader or recipient could give to it.
.