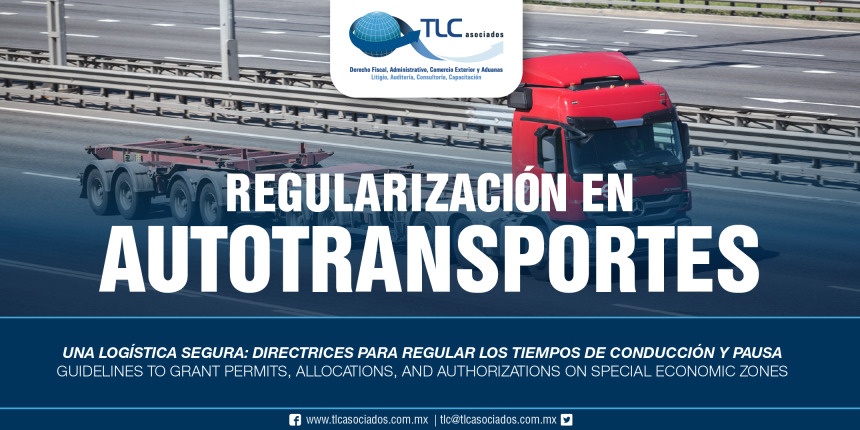 260 – Una logística segura: directrices para regular los tiempos de conducción y pausa / Safe logistics: guidelines to regulate driving and pause times
Estimado Usuario.-
Por medio del presente se hace de su conocimiento la siguiente información: 
El día 28 de JUNIO de 2018 se dio a conocer en el Diario Oficial de la Federación por parte de la SECRETARÍA DE COMUNICACIONES Y TRANSPORTES lo siguiente: 
NORMA OFICIAL MEXICANA NOM-087-SCT-2-2017, QUE ESTABLECE LOS TIEMPOS DE CONDUCCIÓN Y PAUSAS PARA CONDUCTORES DE LOS SERVICIOS DE AUTOTRANSPORTE FEDERAL. 
Objetivo y campo de aplicación 
Esta Norma Oficial Mexicana proporciona las directrices para regular los tiempos de conducción y pausa para los conductores del Servicio de Autotransporte Federal y Transporte Privado, con la finalidad de reducir la incidencia de accidentabilidad. 
Esta Norma Oficial Mexicana es de observancia obligatoria al Servicio del Autotransporte Federal y sus servicios auxiliares en todas sus modalidades, que transitan en caminos y puentes de jurisdicción federal en la República Mexicana, así como en el transporte privado al que se refiere la fracción XI del artículo 8 de la Ley de Caminos, Puentes y Autotransporte Federal. […] 
Tiempos de conducción y pausas de los conductores del autotransporte federal y transporte privado 
4.1 Todo conductor debe realizar una pausa de 30 minutos cuando:
a) Ha conducido hasta cinco horas continuas, o bien;
b) Esta pausa podrá distribuirse durante un lapso de cinco horas y media de acuerdo a las condiciones de la ruta. 
4.2. Los periodos de pausa, en ningún caso podrán ser acumulables.
4.3. Durante todo el tiempo de conducción, el conductor debe portar la Bitácora de Horas de Servicio y exhibirla a la autoridad competente cuando ésta le sea requerida; la cual debe ser de uso personal e intransferible. El registro de los datos de la bitácora se realizará en formatos impresos o electrónicos. 
4.4. Los permisionarios pueden aprovechar los dispositivos tecnológicos disponibles con el objeto de cumplir las disposiciones del presente ordenamiento, tales como el tacógrafo u otras aplicaciones electrónicas. […] 
Transitorios 
PRIMERO. La presente Norma Oficial Mexicana entrará en vigor 60 días naturales después de su fecha de publicación en el Diario Oficial de la Federación. 
SEGUNDO. La Secretaría publicará en un plazo no mayor a 45 días, contados a partir de la publicación de la presente Norma Oficial Mexicana, el listado de los sitios y espacios físicos recomendados para su cumplimiento. […]
Sin otro asunto en particular quedamos a sus órdenes para cualquier duda o aclaración respecto de la presente información.
Atentamente
División de Consultoría en Comercio Internacional y Aduanas
TLC Asociados, S.C.
 Prohibida la reproducción parcial o total. Todos los derechos reservados de TLC Asociados, S.C. El contenido del presente artículo no constituye una consulta particular y por lo tanto TLC Asociados, S.C., su equipo y su autor, no asumen responsabilidad alguna de la interpretación o aplicación que el lector o destinatario le pueda dar.
Esteemed User.-
By means of the present the following information is made known: 
On June 28, 2018, the following was announced in the Official Federal Gazette by the SECRETARIAT OF COMMUNICATIONS AND TRANSPORT: 
MEXICAN OFFICIAL STANDARD NOM-087-SCT-2-2017, WHICH ESTABLISHES THE TIMES OF DRIVING AND PAUSES FOR DRIVERS OF THE FEDERAL AUTOTRANSPORT SERVICES. 
Objective and field of application 
This Mexican Official Standard provides the guidelines to regulate the driving and pause times for drivers of the Federal Autotransport and Private Transport Service, in order to reduce the incidence of accidents. 
This Official Mexican Standard is of obligatory observance to the Federal Autotransport Service and its auxiliary services in all its modalities, which travel on roads and bridges of federal jurisdiction in the Mexican Republic, as well as in the private transportation referred to in section XI of Article 8 of the Federal Act for Roads, Bridges and Federal Autotransport. […] 
Driving times and pauses for drivers of federal autotransport and private transportation 
4.1 Every driver must take a break of 30 minutes when:
a) You have driven up to five continuous hours, or;
b) This break can be distributed over a period of five and a half hours according to the conditions of the route.
4.2. The periods of pause, in no case may be cumulative.
4.3. During the entire driving time, the driver must carry the Service Hours Log and show it to the competent authority when it is required; which must be for personal and non-transferable use. The log data will be recorded in printed or electronic formats.
4.4. Permit holders can take advantage of available technological devices in order to comply with the provisions of the present order, such as the tachograph or other electronic applications. […] 
Transitories 
FIRST. This Official Mexican Standard will come into force 60 calendar days after its publication date in the Official Federal Gazette. 
SECOND. The Secretariat shall publish within a period of no more than 45 days, counted from the publication of this Official Mexican Standard, the list of sites and physical spaces recommended for compliance. […]
Without anything else at this moment, do not hesitate to contact us.
Sincerely,
Foreign Trade and Customs Consultancy Division of
TLC Asociados, S.C.
Partial or total reproduction is prohibited. All rights reserved to TLC Asociados, S.C. The content of this article is not a private consultation, therefore, TLC Asociados, S.C., and its team and author, are not responsible for any interpretation or use that the reader or recipient could give to it.
.